LAVALUX LED has participated and installed LED lighting in multiple locations. Please see links below for more information on some of our LED lighting projects.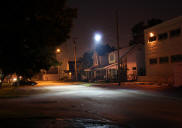 Contact LAVALUX LED for your next lighting project
We look forward to working with you on your next LED lighting project. Our lighting fixtures use the latest, most efficient LEDs on the market today. We have an LED lighting solution for you!

Do you have antique street lamps (acorns) that you would like to convert to LED? LAVALUX LED has an LED acorn retrofit right for you.

LAVALUX LED fixtures have an optional programmable photocell that can be programmed to reduce power at a particular time of night. This feature can provide additional power
savings late at night, or it can be programmed to maintain maximum illumination in high-crime rate areas.
A solar powered option is available for the SL-45 that provides a carpet of light in areas where grid power is not feasible. This would be a great option for remote boat docks, camping areas, etc. Please see the solar link on this website for more details.